BUILDING RESPONSIBLY SINCE 2002
ELFI's pre-fabricated, custom-engineered exterior wall and roofing panels offer an authentic "green and sustainable" alternative with verifiable financial returns and qualitative benefits that leave traditional wood-frame, CMU block construction and pseudo-green technologies where they belong – back in the 20th century. Energy-efficient construction does not have to be complex or expensive. We've proven that in a multitude of projects for nearly two decades.
ELFI's New-Breed of Energy-Efficient Technologies for producing load-bearing exterior walls and roofing panels are completely recyclable materials and enable clients to reduce their carbon footprints without sacrificing quality, flexibility, or architectural creativity. Providing greater occupant benefits, ELFI technologies and methods lower energy consumption equaling significant cost-savings, while every ELFI component is health and environmentally responsible with the elimination of mold, mildew, termites, and gases to ensure a healthy-living environment. Solid Waste:
Drive by any new construction jobsite and what you are going to see is a construction dumpster. Peak inside and you are going to see a treasure-lode of discarded construction materials. Two-by-fours, many times long cut-outs, 5-6 feet long, metal brackets, nails, screws, wrapping of all kinds and shape, pipes, copper fittings… you name it, it will be there. Not with ELFI! Building with ELFI components, there is no wrapping materials, there are no cut-outs. Everything is custom made to the individual project. Yes, further down, when it comes to finishing materials, there will be some limited packaging. But, with the ELFI building components you will eliminate a large percentage of waste and save on a container service.
In the U.S. alone, an estimated 251 million tons of consumer solid waste is generated annually but less than a third is recycled or composted. And as much as 40 percent of this waste comes from construction projects, which produce a surplus of unused building materials, according to Earth911.
The volume of construction waste generated worldwide every year, according to a report from Transparency Market Research, will nearly double to 2.2. billion tons by the year 2025, according to Construction & Demolition Recycling statistics.  Making up more than half of the construction waste generated annually are building materials including wood, shingles, asphalt, concrete and gypsum. 
According to the Transparency and Research report, "reduce, reuse and recycle" policies are necessary to control the amount of construction waste, but insufficient resources, lack of standardization, slim profit margins, policy apathy and lack of education on the issues are keeping that from happening. The Asia Pacific region is expected to generate a majority of the construction waste in the year to come, followed by North America.
The environment loves ELFI… Waste Management companies, not so much!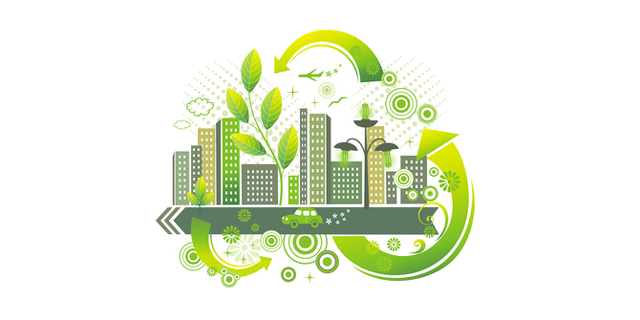 CO₂:
The easiest way to cut down on CO₂ emitting is to build light, energy efficient and limit products with Portland cement mixture. The Portland cement is lime-based product. The cement industry is one of the primary producers of carbon dioxide (CO2), a potent greenhouse gas. Concrete is used to create hard surfaces which contribute to surface runoff that may cause soil erosion, water pollution and flooding. Concrete dust released during building activities could be a major source of dangerous air pollution. The cement industry is one of the largest producers of carbon dioxide (CO2), creating up to 5% of worldwide man-made emissions of this gas, of which 50% is from the chemical process and 40% from burning fuel. The CO2 emission from the concrete products is directly proportional to the cement content used in the concrete mix, for every 1,000 kg of cement used in a concrete mix, approximately 1,000 kg of CO2 is emitted.
Limiting, not eliminating, using judicially concrete and cement in a construction, and replacing it with ELFI technology products, and similar, will result in cleaner air, reducing environmental impact, and show a commitment to the Paris Climate Accord.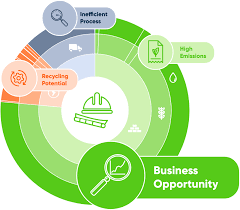 Life Cycle:
Life Cycle Assessment (LCA) can be defined as a systematic inventory and analysis of the environmental effect that is caused by a product or process starting from the extraction of raw materials, production, use, etc. up to the waste treatment. For each of these steps there will be made an inventory of the use of material and energy and the emissions to the environment. (Source www.gdrc.org)
ELFI uses two (2) raw materials in our manufacturing process – galvanized steel and rigid EPS insulation.
Our steel comes to us with already 40-70% of recycled content. All the cut-out, try-outs, testing pieces, brackets and damaged fasteners are always dutifully recycled. After the service life of ELFI building, ALL the steel components are fully recyclable.
EPS (Expanded Poly Styrene) has a "bad" reputation not to de-compose in a landfill. Well, we never send any to a landfill! We strictly recycle all EPS cut-out, sending them back to an original manufacturer for their processing and a secondary use. As far as the "bad" feature of not de-composing EPS material, it is ideal for our purpose – a long term the best money can buy insulation. After the service life of ELFI building, ALL recovered EPS material could be recycled.
In Conclusion…
Past, present and future building industry goals are indicative of the drive to increase overall efficiencies while maintaining competitive means to achieve the goals.  Increasingly, the trend has been focused on energy-efficiency through sustainable practice.  The overused and usually misused terms "green" and "sustainable", as utilized in marketing schemes, is such as someone would say, "I'm a vegetarian, but I eat chicken.".  ELFI, by the strictest empirical or logical definitions, is "green and sustainable" and by design the most integrative, comprehensive and "green" of the building industry players.  ELFI consistently maintains positive impact results within all sector projects.  In a brief "Is ELFI…?" checklist of tangible, business and industry areas to delineate: Cost-effective?  Energy-efficient?  Thermo-efficient?  Leading-edge technology?  Sustainable?  Recycled and recyclable?  A prime example of small carbon footprint?  Providing structural strength?  Weatherized, by design?  Providing ease and speed of application?  Providing life-cycle efficiency?  Cradle-to-Cradle applicable?  Positioned for rapid domestic market penetration?  Positioned for rapid international market penetration?  Providing thorough flexibility and customization in business approach and solutions? The answer to all of the above is a resounding, "YES".  And, very importantly, are the ROI factors predictable and does ELFI provide the potential of rapid growth?  Absolutely!!!